Category

New Feature
Published on
Automatic Google Event Summaries in Discord
Authors
Do you have a lot of events on your Discord server? If so, it can get a little overwhelming trying to keep track of them all. Wouldn't it be great if there was an easy way to automatically send event summaries in Discord? Well, now there is! With our new Event Summary feature, you can easily have daily or weekly summaries sent right to your Discord server. This will help keep everyone organized and up-to-date on what's happening.
What the Event Summary Messages Look Like
The event summary message (as you can see below) takes your calendar events and groups them into daily embeds. Within each day, events are sorted by time (and converted to their timezone) so your users can easily see what's happening and when.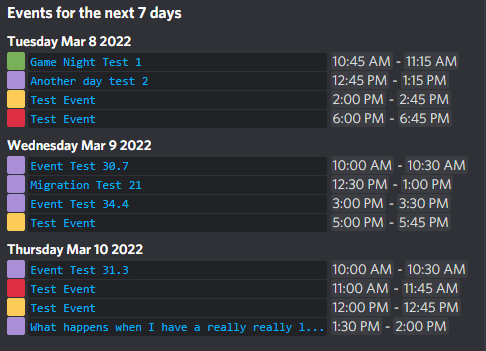 Discord Chronicle Bot Event Summary Example Message
The color emoji on the left reflects the Google Calendar color, enabling users to immediately tell them apart. Hovering over the emoji will display the calendar name.
When a user clicks on an event, they'll be sent to the event's page, or the URL in its Location field.
How to Set Up Event Summaries in Discord
To set up event summaries, head over to the "Summaries" tab in your Event Notifier. From here you can click "Add a Summary", select the type (Daily or Weekly), time, and how many days ahead to summarize.
A more detailed description of how to create a Discord event summary can be found in our documentation.
Once you've got everything set up, just sit back and relax! With automatically updating summary message for your users, your Discord server will be more organized than ever before.
What are you waiting for? Give our new Event Summary feature a try today! Your users will thank you for it.
Next up:
The next most requested feature, and honestly the one that makes the most sense now, is integrating with Discord events.
This will allow you to create a Google Calendar event and have an associated Discord event automatically created and updated for you.