Category

New Feature
Published on
New Event Summary Style
Authors
This is a minor update, but it's significant for some servers. You can now select from two new event summary message layouts. If you have a lot of members in different time zones, this newer alternative may be preferable.
Why A New Summary Style
When we created the event summary feature, we began with a single message style that grouped events by day. This is beneficial for servers with the majority of their users in the same time zone or a nearby time zone, since the day of the event won't vary much.
The above methods don't work so well for servers with members in different time zones, since it's very probable that certain events will occur on a different day for them, resulting in confusion. To fix this problem, we've created a new event summary message layout that does not group events by day of the week but rather presents the events in chronological order.
The New Event Summary Style
When creating or editing a scheduled summary in the "Summaries" tab of your event notifier, you'll see a new "Message Style" drop down. To select this new message style, choose "Single Events" from this menu.
As you can see in the sample below, the new summary style is a little longer, but all the timestamps are automatically converted for each user.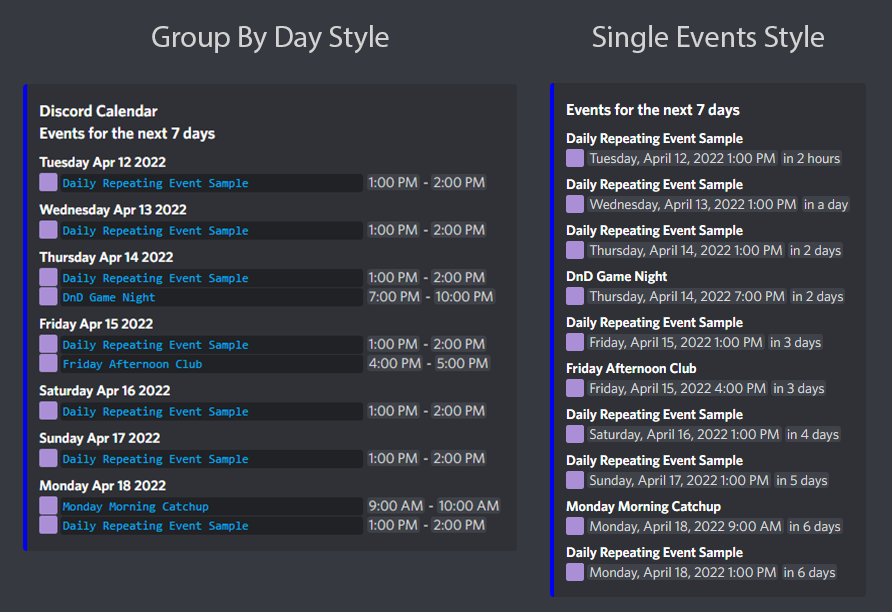 ---
We hope you enjoy this new feature and as always, if you have any questions or feedback feel free to reach out to us on Discord, Mastodon, or Twitter.